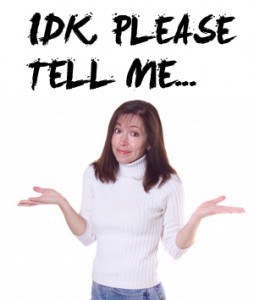 © SyrinGoWhat.com, Copyright Protected. Feel free to openly share this link anywhere, but please ask before copying this content or parts of this content elsewhere.
I found that when working with doctors that I made several mistakes by assuming that the doctors knew everything.  No human can.  Part of their training is instilling confidence in their patients.  Some doctors translated this into 'never act like you don't know something'. 
This situation can be a big risk or no true path to dealing with the root cause of symptoms.  I've learned to ask the doctor questions when they suggest a treatment, a prescription or nothing at all.  The doctor should be able to answer any of your questions if they are providing an action plan.  My suggestion is to ask questions, mainly 'Why?'. 
When you interview your doctor, you may just help him or her discover that they may need to learn a little more about Syringomyelia.  I have another post on my website called 'Syringomyelia Caregiver Quick-Tip Pocket Guide' that contains a document from wstfcure.org.  This is a great packet to hand your doctor.
Here are some of the questions I try to ask:
Why would this affect that and how?
Why are we doing another MRI?
Why are you prescribing this medication and how will it help?
Why or how will increasing the dosage of my medication help?
Why am I being referred to a different or another doctor?
Why do I not feel like I am stabilizing or getting better?
Why would you think that my disease isn't the cause of my pain?
Why can't we try something different than what just treats symptoms?
Why would you 'think' you know and is it wise to base my treatment on that?
Why would you prescribe physical therapy as a cure if some of those activities could make it worse?
Why do you think stretching fixes my issues?
Why wouldn't you want to know more about Syringomyelia?  Here is a packet.
Some times I just want to start asking random questions just to see how they respond:
Why is the sky blue?
Why did I have to wait so long?
Why is this room so dang cold?
Why would a person feel that another person's time isn't as important as their own?
There are plenty of more questions that I ask.  However, many times I seem to not be given enough time to ask them or feel rushed and I forget.  I need to remember that I am paying for a service and I should be satisfied by that service.  I need to MAKE the doctor think and learn before just throwing suggestions and treatments at me.  I AM IN CONTROL!!!  I need to always write down every question I want answered and my doctor will need to answer each one.  This is my life, my appointment and my money.  So now I ask you this… Why not ask why or what or how or when? 
Remember this my friends, you are in control.  You got this!
Deuteronomy 31:6 NIV Be strong and courageous. Do not be afraid or terrified because of them, for the Lord your God goes with you; He will never leave you nor forsake you."
Please feel free to send me your thoughts or more resource links using my contact page.   Peace, Love and Pancakes — Michael Doc Davis (SyrinGoWhat.com)