SyrinGoWhat.com © 2015 | All content from this site cannot be reproduced, rewritten or used in any other way without permission (this excludes the sharing of unedited versions on social media). You can request permission using our contact form.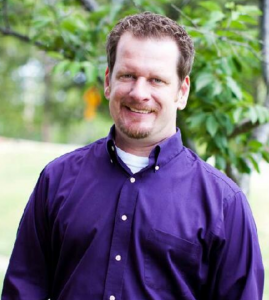 Hello there… I'm Michael 'Doc' Davis from Arkansas, The Natural State and I have Syringomyelia but it doesn't have me.
My story with Syringomyelia began roughly in 2003 when I fell down some stairs with the full force of my weight landing on the edge of a step in the center of my spine along the thoracic area.  Several months later, I began having muscle spasms and locks in my lower chest and stomach muscles.  This progressed quickly into my legs with tripping and strength loss.
I finally realized this wasn't getting better and I got over my 'I don't want to deal with doctors' mentality.  I had an MRI completed and a syrinx was identified in my thoracic.  I was then told to seek the help of a Neurosurgeon.  My choice of a doctor was Dr. Russell at Central Arkansas Neurosurgery (now called Arkansas Surgical Hospital) in North Little Rock, Arkansas.  
It was determined that a decompression surgery would be necessary to reduce / stop the progression of the syrinx and resulting symptoms.  During the surgery it was found that the syrinx was actually segmented and a follow-up surgery would be needed.  The follow-up surgery turned into three more surgeries performed by Dr. Calhoun from the same clinic.  The second surgery was performed without the desired results.  I was told that the shunt used in the second surgery was a neonatal feeding tube because the recommended size shut wasn't available.  A third surgery was required at this point to remove the 'feeding tube' from my spinal cord.  A replacement shunt was not added because the 'doctor' stated that the opening from the 'feeding tube' may be able to continue the drainage.  However, this ended up not being the case.  A fourth surgery was now needed since the hopes of the drainage continuing was not realized.  The proper size shut was added during the fourth surgery along with scar tissue being removed.  The lesson learned here is RESEARCH THOROUGHLY the doctors and their experience with the specific treatment that you are in need of!!!  By the way that clinic also lost some of my MRI work that I and my insurance company paid for.  Grrrr!
I'm sure you could imagine my frustration at this point with all of the MRI's, medications, unnecessary multiple surgeries, multiple recovery times, depression and the interruption of life.  All of this was over more than 2 years.
Regardless of everything to this point, God still had my back and now I could move forward.  It may not have been the 'normal' healthy person's path but it was mine and I was still breathing and walking.  Even though my now ex-wife wasn't supportive… God, my family and friends were VERY supportive.  I thank God EVERY day for all of my blessings that also included not being married to that woman… HAHAHA!!!  At this point my future was looking brighter.
I eventually was able to move forward, ween myself off of medications and move forward.  I even began challenging myself with everything I could.  I got into 'Stand up' comedy, acting, MC / Hosting work for big events, on air with radio and comedy podcasts as Michael Doc Davis.  I also got into scuba diving, extended road trips, 50+ mile bike rides and more.  During this time I even got back into dating and living my life a bit more than 'normal'.  I lucked out during that dating time and met my incredible wife Christy and her wonderful daughter Kaylea.  We've been married since March 8th 2014 and they are both the most amazing blessings that have ever been bestowed on me.  The preacher, Marty Knight, that married us just happened to also be one of my best friends for several years.
We regularly go to the beaches in Florida where I find the simple 'feeling' of sand and ocean water on my legs as AMAZING!
Am I back to normal?  No.  Am I out of pain?  No.  Do I let that keep me from enjoying life?  I refuse!  Will I keep fighting?  YOU BET YOUR ASS!
Although I may be considered partially medically disabled, I will always fight to be very much 'enabled' and will do what I can to also help others.  With God, my wife and daughter (The best nurses EVER), my family and friends, I can enjoy my life. 
Since I do a lot of promotional stuff with www.LetsGoPromo.com including websites, photography, videos and social media, I've decided to create this website called SyringoWhat.com to include Chiari and Syringomyelia stuff.  It will point to stuff like ASAP.org resources, doctor lists, information, support groups, FAQ's and other resources that I find or is shared with me.
This has been placed on my heart as being necessary for me and others.  There simply isn't enough information and connections between it all so I got'a help somehow.
Please check 'back' as I work on getting all this stuff together for the website.
You can contact me using our contact form.