© SyrinGoWhat.com, Copyright Protected. Feel free to openly share this link anywhere, but please ask before copying this content or parts of this content elsewhere.
Happy Halloween everyone.  I've posted on Facebook that I thought it would be kind of funny to make a Syrinx costume and dress up for Halloween but it didn't quite happen.  I debated on what that would actually look like and was thinking it would look like an elongated balloon.  However, with my luck people would have thought I'm an Oscar Meyer wiener or some other kind of wiener.   Come to think of it, I've been called that a few times, HAHA!  You have to admit that this would have been a hilarious way to raise awareness about Syringomyelia.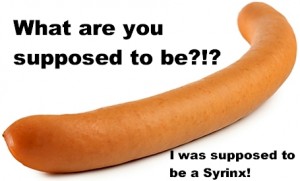 People sure the heck wouldn't have had a clue as to what I was and would have had to ask.
During my many years of dealing with Syringomyelia, this stupid disease does like to 'trick' me into thinking it's better and then poof the next day WTH!  The only real 'treat' from it is a greater appreciation from all of what I DO have and those that have come into my life.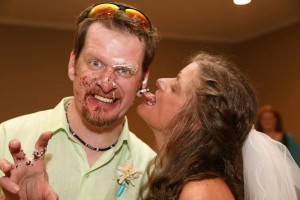 As far as dressing up, my wife has helped me realize that I don't have to cover up my pain nor 'act' normal… ok, I'm a bit weird in general.  🙂 Since being with her I've found more strength in accepting what I have and not having to hide from it or hide it from others.  It was a huge relief and she has made it much easier to deal with head on.  My wife wrote an awesome post called 'Syringomyelia, Through the Eyes and Heart of my Wife and Caregiver'.  I will continue to fight with the 'trick' being to continue 'treat' myself to life and happiness.  I truly hope that all of those that deal with this disease can and will do the same. 
One last thing, don't let doctor's try to 'trick' you into thinking that Syringomyelia is just in your head or the symptoms can't be from it especially when there is evidence that they are.  Also, sometimes the best 'treat'ments are the ones you find on your own.  Some of the ones I have found both beneficial and not so much can be found on my 'Doing it Doc-cy Style' post.
BOO AND STUFF!!!
---
James 1:17 KJV Every good gift and every perfect gift is from above, and cometh down from the Father of lights, with whom is no variableness, neither shadow of turning.
Please feel free to send me your thoughts or more resource links using my contact page.   Peace, Love and Pancakes… oh yeah and wishes of many ocean waves — Michael Doc Davis (SyrinGoWhat.com)