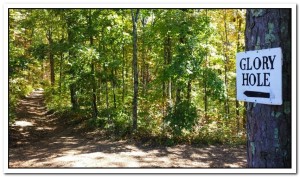 What a crazy, fun, adventurous and victorious day against Syringomyelia traveling to the Glory Hole Falls between Fallsville and Edwards Junction, south of Boxley Valley, Arkansas.  Unfortunately, my Syringomyelia struck before we even got started.  This time in the form of needing to do #2.  Mind you, I have never ever in my 43 years of life pooped in the woods.  Today was my day and I executed flawlessly.  The better news is that I didn't find out if bears pooped in the woods with an accidental encounter.  I wasn't too worried since the shear whiteness of my rear would have likely blinded any potential predator.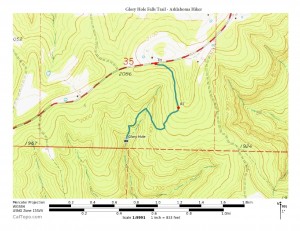 OK, back to the adventure… we arrived roadside on HWY 21.  There weren't any stores, houses, bathrooms, places to get something to drink and limited cell service.  With Syringomyelia, this ups the risk significantly but I was not about to turn back.  We started down the trail and I knew this was going to be a BIG challenge.  The trail started out pretty flat but went downhill quickly and literally.  At that point it was clear why they called this trail 'Moderate'.  My wife and I pushed ahead descending nearly 200 feet down in elevation.  The entire time as we descended down the uneven rocks, sporadic muddy spots, etc… I enjoyed the trail but I was also concerned about the trip back out and up.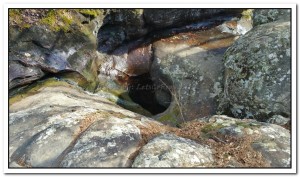 We arrived at the top of the falls and all of the struggle to this point was well worth it.  However, we still wanted to see the bottom of the falls as the water flows through the glory hole.  There were several slippery spots and now absolutely NO cell service.  We had to be very careful and I used a hiking stick for stability.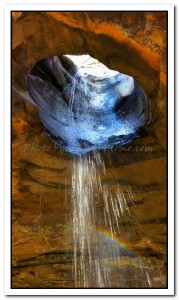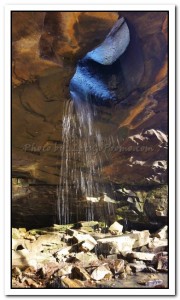 Now at the bottom of the falls, I have to say it was VERY impressive and it was very happy ending.  I silently thanked God and my wife for the strength and I also believe CBD helped get me get to this point.  We enjoyed the cool air and view.  It was AMAZING!  Nature sure can make some amazing scenery.
Now it was time for the trek up and out.  I knew that it would be hard but nobody was going to do it for me.  We climbed and climbed step after step.  I never thought about the entire task, just the next step.  We finally made it back to our 4Runner and were VICTORIOUS!  At the end I did nearly 7,500 steps for the day, climbed the equivalent of 36 flights of stairs (200+ feet in elevation)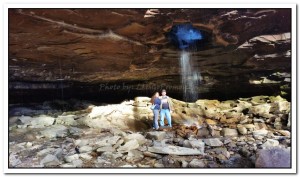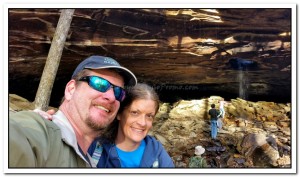 Ultimately with God's love, my wife by my side, CBD in my system and a go get'em attitude… I can nearly do anything.
Matthew 19:26 NIV Jesus looked at them and said, "With man this is impossible, but with God all things are possible."
Please feel free to send me your thoughts or more resource links using my contact page.   Peace, Love, Pancakes… — Michael Doc Davis (SyrinGoWhat.com), fellow Syringomyelia Warrior