© SyrinGoWhat.com, Copyright Protected. Feel free to openly share this link anywhere, but please ask before copying this content or parts of this content elsewhere.
I thank God for my wife (my caregiver) on a daily basis that always go so far above and beyond.  I wish I could be more of a physically 'normal' person or man for her on a daily basis as well.  She means the world to me along with our daughter. 
You may wonder what this has to do with Ocean Therapy or Syringomyelia.  Well, when we are there I can let my mind drift away from the thoughts and pain of the disease. 
Being in the ocean water allows me to be free from the constraints of some of my limits.  I am weightless and so is my family.  I can carry my daughter and play with her with ease.  I can hold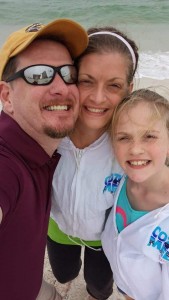 my wife around my waist or on my back with no pain.  No, I'm not saying she is fat.  Ha!  When I walk in the water, there is nearly no pain as the sand beneath my feet absorbs my steps.  My muscles relax as the waves massage my body.  I can float and be free, which is how the ocean is my Syringomyelia therapy.
The ocean water is amazing and I always feel refreshed even by being near it.  Ocean water doesn't truly heal but it is definitely my type of therapy. 
I highly suggest water therapy, especially salt water if you are able.  I truly think you would be shocked at how physically 'normal' you might feel.  You can free yourself from gravity.  You can free yourself from constraints.  You can free yourself from some pain. 
There are a lot of other benefits to ocean water.  Check out this little article from LiveStrong.com.  However, it doesn't mention the strength and stamina training you do while trying to get away from sharks.  Just kidding and stuff.
A GREAT place to visit is Henderson Park Inn in Destin, Florida.  It's our new most favorite place to go.  While we were there, we were spoiled to the core.  Most of all, my favorite therapy was just yards away… the ocean.
I thank God for the most simple things and He always amazes me by His blessings.
Isaiah 43:2 KJV  When thou passest through the waters, I [will be] with thee; and through the rivers, they shall not overflow thee: when thou walkest through the fire, thou shalt not be burned; neither shall the flame kindle upon thee.
Please feel free to send me your thoughts or more resource links using my contact page.   Peace, Love and Pancakes… oh yeah and wishes of many ocean waves — Michael Doc Davis (SyrinGoWhat.com)